Details

Hits: 2643
The biggest issue with Waste Management is general indifference towards the issue by various stakeholders including the public. Saahas, along with its partners Coca-Cola, TetraPak and GIZ organized a 'Photography Contest' under its Alag Karo program. The aim was to encourage people to pay attention to this issue and the people who work with it, look at it with a different lens.

Over a month, the contest attracted many enthusiasts amateur to professional photographers of all ages from the Delhi-NCR region. The photographs were quite moved when visiting the sites. They specifically wanted to highlight the efforts of the unsung heroes who contribute to this eco-system, individuals who segregate waste, collectors, sorters, recyclers, and many others. We want to show the world that the stigma around waste is misplaced and how source segregation makes the whole activity far more hygienic for the people working on it downstream.
On 4th Dec 2021, the winners were announced.

The jury of the first-ever Photography Contest organized around the theme of Source Segregation and Waste Management selected Mona Singh's photograph titled "Holding the world in her hands" as the winner of the contest. Navneet Kaur's photograph showing a mother opening an umbrella for her children at a waste worker site for them to sit in shade and Ishan Agarwal's photograph titled "Cornerstone Of Our Community" was chosen as the second and third runner up respectively.

Dr. Vaishali Sharma, Additional Commissioner Swach Bharat Mission, Municipal Corporation Gurugram felicitated the winners and commented "As developing nations surge forward on the path of development, they are also plagued by the problem of manifold increase in the quantum of waste generated. Gurugram generates 1000 Tons of Municipal Solid Waste per day. If source segregation is practiced and collection and processing infrastructure is improved, it is possible to reduce the amount of waste being dumped by 85-90%. MCG has started various interventions for source segregation of waste and decentralized waste management. We are thankful to the private sector partners and Saahas, who have joined hands to implement source segregation of municipal solid waste. A photography contest on this subject is an innovative way to sensitize the city."
Mr. Aditya Arya, Director, Museo Camera, and jury member said: Museo Camera is one of the most unique and the largest museum of photographic arts in Asia. It has evolved out of a unique public-private partnership. Museums not only showcase art and history but are a place to learn and educate the younger generation. Today Gurugram is one of the fastest-growing cities in the country. Cities have to plan for the future. The Inhabitants have to be made aware of their responsibilities. Today in a world that is driven by consumerism, we are constantly generating a huge amount of waste - plastic, paper, rubber, glass, etc. We at Museo Camera feel it is our duty to educate and make the younger generations and inhabitants of this millennium city aware of their civic duties to Segregate and Recycle waste and also promote minimalistic usage of non-biodegradable products.

Rajesh Ayapilla, Director Sustainability, and CSR Coca-Cola India said, "At Coca-Cola India, we are driven by our vision of creating a 'World Without Waste'- recycling every bottle or can that we sell by 2030. For this, we have a three-pronged strategy- Design, Collect, and Partner. We are really proud to once again partner with Saahas to drive, create and accelerate waste collection and segregation at the source level. The amount of waste that is being generated today and its subsequent ramifications are alarming, and the onus is on each one of us to drive a behavioral change at the individual level. This will help us not only contribute towards the Indian government's Swachh Bharat Mission but also create a green, clean, healthy, safe, and sustainable environment."
Dr. Ashish Chaturvedi, Director - Climate Change India GIZ India said, "Alag Karo is supported under the development program of the German Federal Ministry for Economic Cooperation and Development (BMZ) with project partners GIZ, Tetra Pak, Coca-Cola, and Saahas. The project aims at creating a model system for waste management at the ward level, that has the potential to be replicated in other parts of the city. This model will focus on source segregation of waste and involve all stakeholders of the society, ensuring the implementation of systemic solutions for waste management. The project will also improve the working conditions of the informal sector through access to segregated waste and by undertaking various training and capacity-building measures."

Speaking on the occasion, Sumit Jugran, Sustainability Manager, South Asia Markets said, "At Tetra Pak, we have long believed in Honourable Prime Minister Narendra Modi's proposition to start looking at waste as a resource. Our cartons are paper-based, recyclable, and have the lowest carbon footprint among all other packaging materials used for similar food products. So, when we choose carton packaging, we are already making a positive choice. And when we segregate used cartons from our waste, we ensure that waste pickers earn an additional livelihood, and the used cartons get recycled into many useful items like benches, desks, notepads, and roofing sheets. But it all begins with waste segregation at source and its recovery – which is precisely what Alag Karo aims to drive across communities."

India is facing various environmental challenges, sustainable waste management being one of the most critical ones. The current practice of dumping and burning waste needs to shift sustainable waste management practices like source segregation, recycling, and circular economy, says Sonia Garga, Director Saahas.

The exhibition of the photographs was organized from 4th Dec till 12 December 21 at Museo Camera, DLF Phase 4, Gurugram.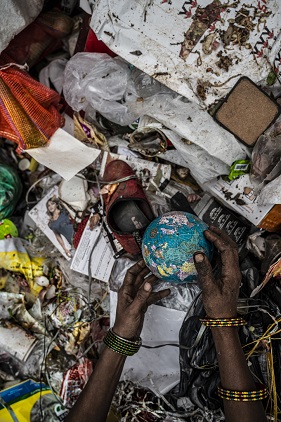 Holding the world in her hands
A worker unearths a dusty globe under the debris of waste during her shift at Wazirabad Waste Workers Colony. Let us all respect mother earth before its too late..Its all in our hands!A worker unearths a dusty globe under the debris of waste during her shift at Wazirabad Waste Workers Colony. Let us all respect mother earth before its too late.. Its all in our hands!
Women Waste Workers - Kids looking at their mother while she is opening an
umbrella for them to sit in shade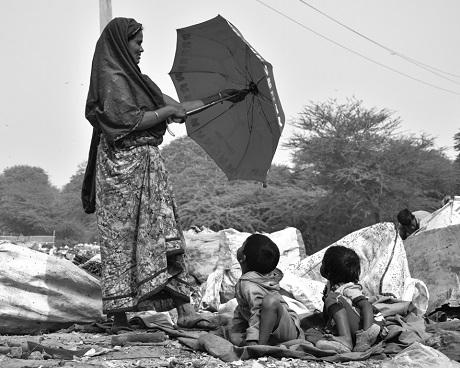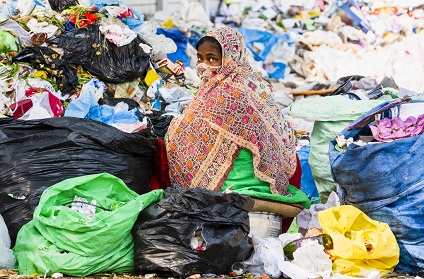 Cornerstone Of Our Community
Meet this lady who is the cornerstone of our community. Because of her hard work we are able to keep tons of plastic and other materials away from landfills.
Details

Hits: 2917
About 35 people participated in the Vyapar Kendra Cleanliness drive. The drive was supported by the MCG Sanitation team who were instrumental in picking the C & D waste and sweeping roads during the event. Several RWA active citizens, volunteers, Vyapar Kendra shop vendors, and their housekeeping staff actively contributed towards the cleanliness drive.

Outcome: 55 kgs of dry waste were collected, It was a great learning experience for the team. The drive sent out a positive message of waste segregation and recycling of non-biodegradable waste. At the end of the drive, it was found that most of the waste that was littered consisted of Tobacco wrappers, cigarette butts, disposable cups and plates, broken liquor bottles, and single-use (MLP) chips packets. Most of the waste was soiled, so it was difficult to segregate during collection.
Details

Hits: 2668
World Wetlands Day is observed every year on February 2nd all over the world. It is celebrated to raise global awareness about the vital role of wetlands for people and our planet. This day also marks the date of the adoption of the Convention on Wetlands on February 2, 1971, in the Iranian city of Ramsar. This year's theme of World Wetlands Day is "Wetlands Action for People and Nature", which highlights the importance of actions to ensure the conservation and sustainable use of wetlands for humans and planetary health.

Sharing glimpses of Alag Karo's participation at the National Level Celebration of Worlds Wetland Day 2022, at Sultanpur National Park. The team had a good experience in terms of interacting with lots of visitors including Schools from Gurugram, Media persons, officials of the forest department of Haryana and several other dignitaries.
Details

Hits: 3347
MCG and Saahas Alag Karo program team organized the Zero Waste Republic Day Contest for school students of Gurugram. Students of class V to IX were encouraged to post their slogans, poem, etc to express their love and concern for the environment and how being waste conscious can contribute to the same.

The contest received an overwhelming response of beautiful art sketches, DIYs spreading the message on waste management, and 3 R (Reduce, Re-use, Recycle) from 150+ students. The felicitation ceremony for the winners was organized at MCG, Zone 3 office in Gurugram. Dr Vaishali Sharma, Additional Commissioner Swach Bharat Mission Municipal Corporation Gurugram felicitated the winners Arjun Gaba, Aanya, Arora, Arjun and Nancy, Manishika Ahuja, Arshia Dhingra, and Aarna Kapoor with a certificate and prize for their efforts.
Details

Hits: 2712
At Saahas we believe that values and behaviors learnt early stay with us throughout our adulthood and define who we are. Therefore, it is very crucial that in these early years of development we spark an interest in caring for and protecting the environment. The aim of teaching children environmental education is for them to make caring for nature part of their lives, as opposed to just studying it. This helps in developing a firm ecological mindset which can be used to overcome today's environmental challenges with a proactive attitude and a strong commitment.

Therefore, for this year's World Environment Day, we launched the "Alag Karo- Waste Free Gurugram" movement.